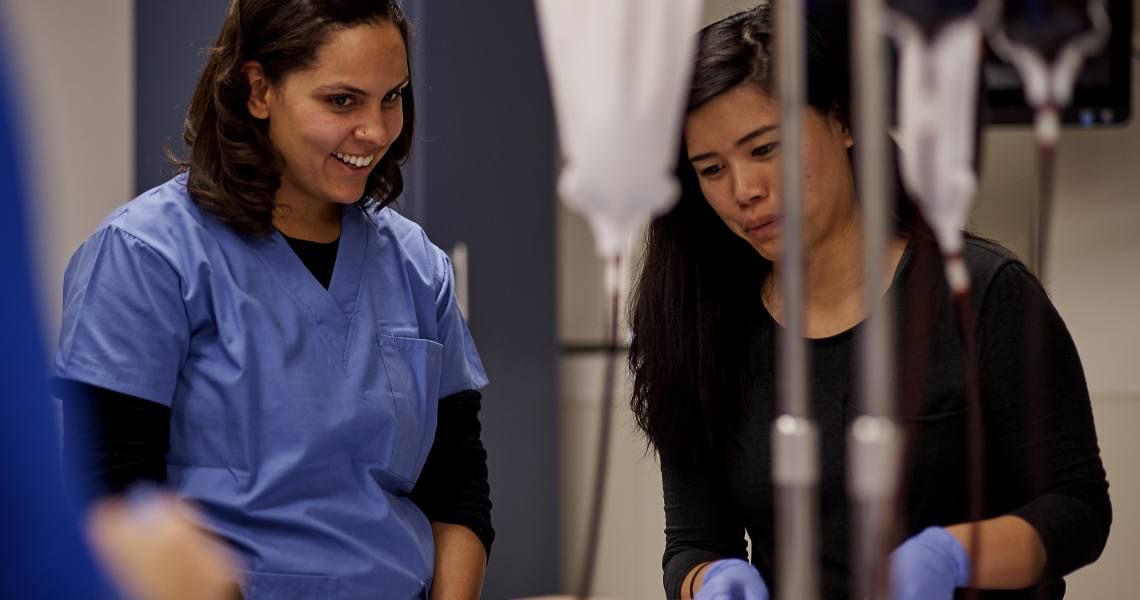 Diversity, Equity, and Inclusion
The Department of PA Studies believes diversity, equity, and inclusion are fundamental to both improving students' experiences and broadening perspectives. Recruiting faculty and staff from diverse backgrounds supports the mission of the department to educate future clinicians who will represent and serve their communities. Consistent with the School of Medicine and Health Sciences definition, diversity is defined broadly to include individuals with unique work and life experiences, talents and traits, as well as gender, race, ethnicity, and socioeconomic background.
Within the School there are many resources that foster equity and inclusion. The SMHS Office of Diversity and Inclusion (ODI) was created in 2013 and the Anti-Racism Coalition (ARC) was created by Deans Barbara Bass and Yolanda Haywood in response to the murder of George Floyd in 2020. Both the ODI and ARC are grounded in principles of welcoming difference and eradicating all forms of oppression.  This work spans our educational programs, our work environment and the care we provide for our patients.  Several products of the work of ODI and ARC are available including "The use of race in the curriculum".  This document describes educational best practices to prevent racism in curricula and is used by Department of PA Studies faculty when designing and revising instruction in the Physician Assistant and Post-Baccalaureate programs.
Dr. Susan LeLacheur DrPH, MPH, PA-C, Professor of PA Studies and a nationally recognized expert in health equity, diversity and race, and inclusion has been selected as the Department of PA Studies, Department Director of Equity. As a member of the GW SMHS Anti-Racism Coalition, she evaluates systems of power and identifies ways to disrupt them to address racism in the medical learning and working environment. Dr. LeLacheur advocates for systems changes to improve department procedures and policies.
GW Resources: Diversity, Equity and Inclusion
SMHS Policy on Diversity and Inclusion

How to Report Bias

If the incident is an emergency or medical attention is required call 911 immediately or report it directly to the George Washington University Police Department at 202-994-6111.

Any report of a sexual assault, sexual- or gender-based harassment, or relationship abuse should be made through www.haven.gwu.edu or by contacting the University's Title IX Office at 202-994-7434. To access confidential counseling resources on campus for reporting sexual assault, contact the Sexual Assault & Intimate Violence (SAIV) Helpline at 202-994-7222, the Colonial Health Center for counseling services at 202-994-5300, or the Office of Victim Services at 202-994-0443. The Sexual Assault and Intimate Violence (SAIV) Helpline is a confidential crisis helpline for GW students impacted by sexual harassment, sexual assault, dating and domestic violence, and stalking.

Who should report a bias related act?

It is our hope that all members of our community feel responsible for the well-being of each and every student. We strongly encourage students, faculty, and staff to report possible bias incidents. The Bias Incident Response Team will evaluate your report and determine the best way to respond.

Three ways to report:

---

Report online

Online reporting is available 24 hours a day.

Students: To report a bias incident online complete the Bias Incident Form. The form will be submitted to the Office for Diversity, Equity and Community Engagement.

To file a discrimination complaint online, complete the Incident Form. This form will be submitted to and processed by the Office of Student Rights and Responsibilities.

Students, Faculty and Staff:  Bias incidents may also be reported through the University's compliance hotline, Ethicspoint.  Reports may be made on an anonymous basis. To make a report you may use either the following link or dial toll-free, within the United States, Guam, Puerto Rico and Canada: 888-508-5275.  Your report will be directed to the appropriate office for follow-up.

Report by phone

Phone lines are open from 9 am to 5 pm. You can leave a message outside of business hours and it will be processed the next business day.

Students: To report a bias incident by phone, call the Office for Diversity, Equity and Community Engagement, 202-994-7434.

To pursue a discrimination complaint by phone call the Office of Student Rights and Responsibilities, 202-994-6757.

Faculty: To report an incident by phone, call the Office of Faculty Affairs, 202-994-5884.

Staff: To report an incident by phone, call the Equal Employment Opportunity and Employee Relations Office, 202-994-9656.

Report in person

Offices are open from 9 am to 5 pm.

Students: To report an incident in person visit, the Office for Diversity, Equity and Community Engagement, Building YY, 812 20th St., NW, Washington, DC.

Faculty: To report an incident in person visit, the Office of Faculty Affairs, 1922 F St., NW, 3rd floor, Washington, DC.

Staff: To report an incident in person visit, the Equal Employment Opportunity and Employee Relations Office, 2033 K St., NW, Suite 205, Washington, DC.

Student Resources